On Tuesday, members from Hindu and Muslim communities of Dhulagarh, West Bengal together celebrated the birth anniversary of poet Rabindranath Tagore by tying threads of unity and harmony on each other's wrists.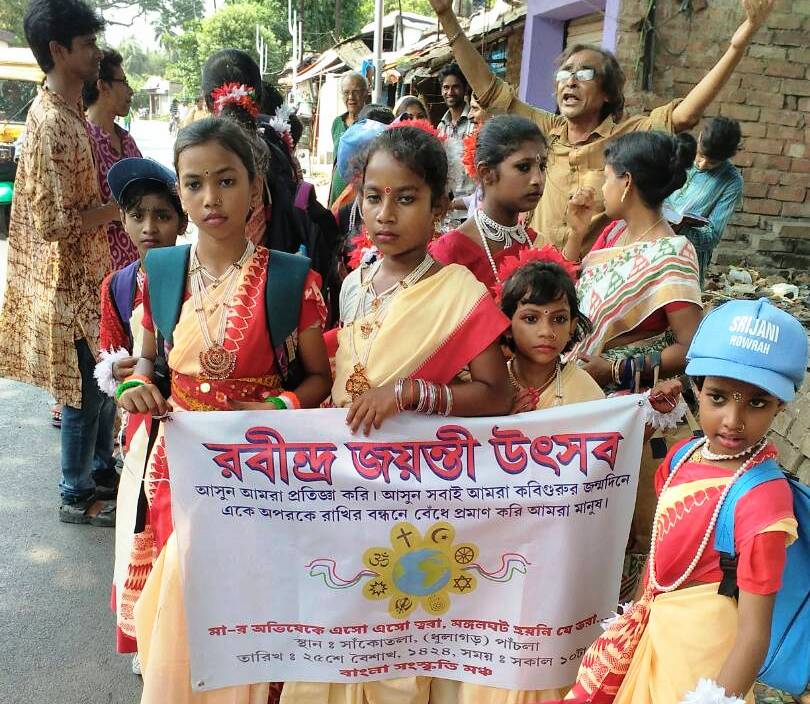 The unique birthday celebration of the Nobel Laureate, who had championed the causes of Hindu-Muslim unity, was organised under the banner of 'Bangla Sanskriti Manch' to celebrate the spirit of unity, fraternity and communal harmony in the state in which several civil society members from Kolkata also went to participate.
A cultural programme was also organised on the occasion in a hall in Dhulagarh around 11.00 AM, where social activists from the city as well as some villagers sent out a message of peace and harmony. They later tied Rakhi to each other. This ritual was followed on streets as well and local villagers responded spontaneously and positively.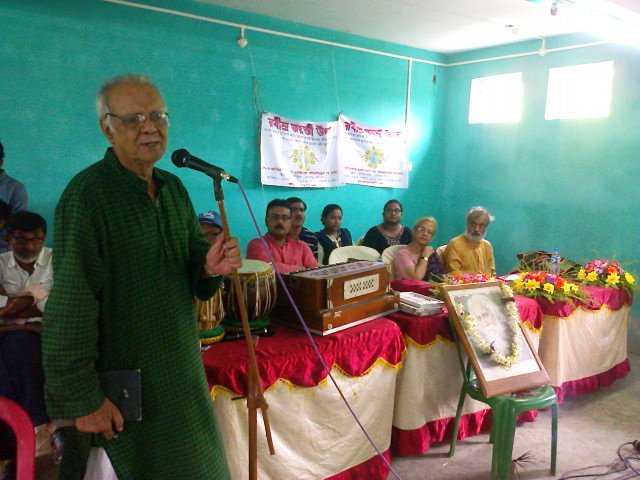 Prominent civil society members who participated in the event included social activist and writer, Prof Miratun Nahar, journalists Millin Dutta and Bisawit Ray, human rights activist Ashim Giri, general secretary of Forum for Artists and cultural activist Dillip Chakrabraty, among others.
Prof Miratun Nahar, retired professor of philosophy, writer and a respectable voice from the city, who participated in the program, said, "Programs like these sending message of peace and harmony are the need of the hour." She added that the villagers in the locality have been living in peace and harmony but some political forces are trying to vitiate the atmosphere for narrow political gains.
Cultural activist and intellectual Dillip Chakrabraty reminded the audience that this is the land of Ranbindrnath Tagore and Kazi Nazrul Islam where Hindus and Muslims have lived harmoniously, adding that the people of Bengal should remain united to defeat communal forces.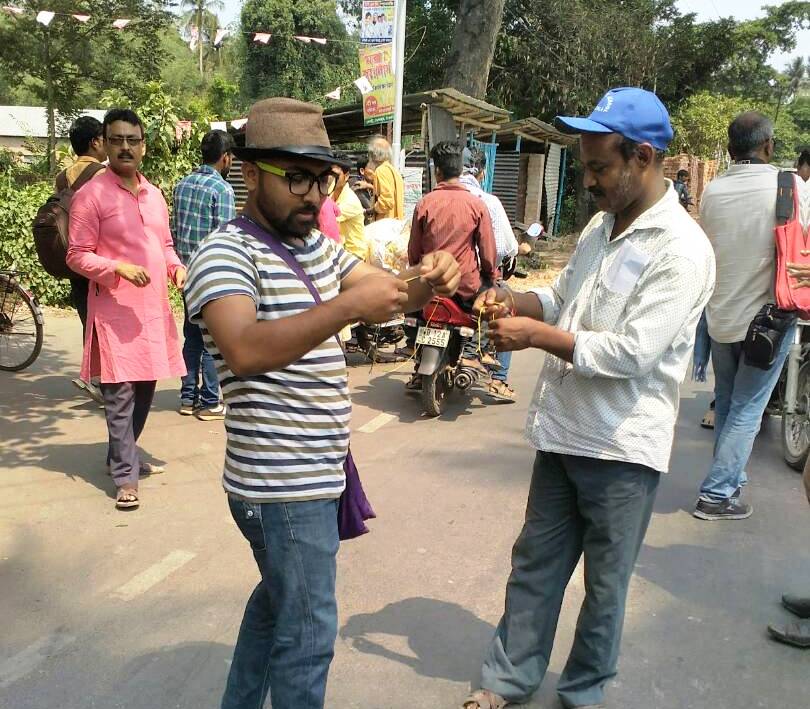 Senior journalist Nasir Haider Khan appreciated that local organisations on ground actively participated in the Rakhi-Bandhan program. "It's very positive to see that locals are taking initiatives to build bridges between two communities after riots," he said, but cautioned that sustained efforts need to be taken for any real changes on ground.
The program was initiated and organised with logistic support from Rights to Life Foundation. Volunteers of Rights to Life Foundation, Samirul Islam, Md Nazim, Tanmoy Ghosh, Ajay Ray, Pradip Roy, among others played active role in the organisation of the whole program.
112 years ago, when the British government had decided to partition Bengal in 1905, Tagore had used the occasion of Raksha Bandhan that co-incidentally that year fell on the same day when partition plan was to take effect on October 16, to send a political message of communal-harmony by encouraging Hindu and Muslims to tie the sacred threads of fraternity and unity on each other's wrists and urged everyone to keep fast for a day.
Chief organizer of the event 'Bangla Sanskriti Manch' chose Dhulagarh in Howrah district as the area had witnessed communal riots in December last year on the occasion Eid Milad-un Nabi. Spread between span of two days, the Dhulagarh riot witnessed people hurling bombs on each other houses after a tension occurred between procession over Milad-un Nabi was not allowed to carried out.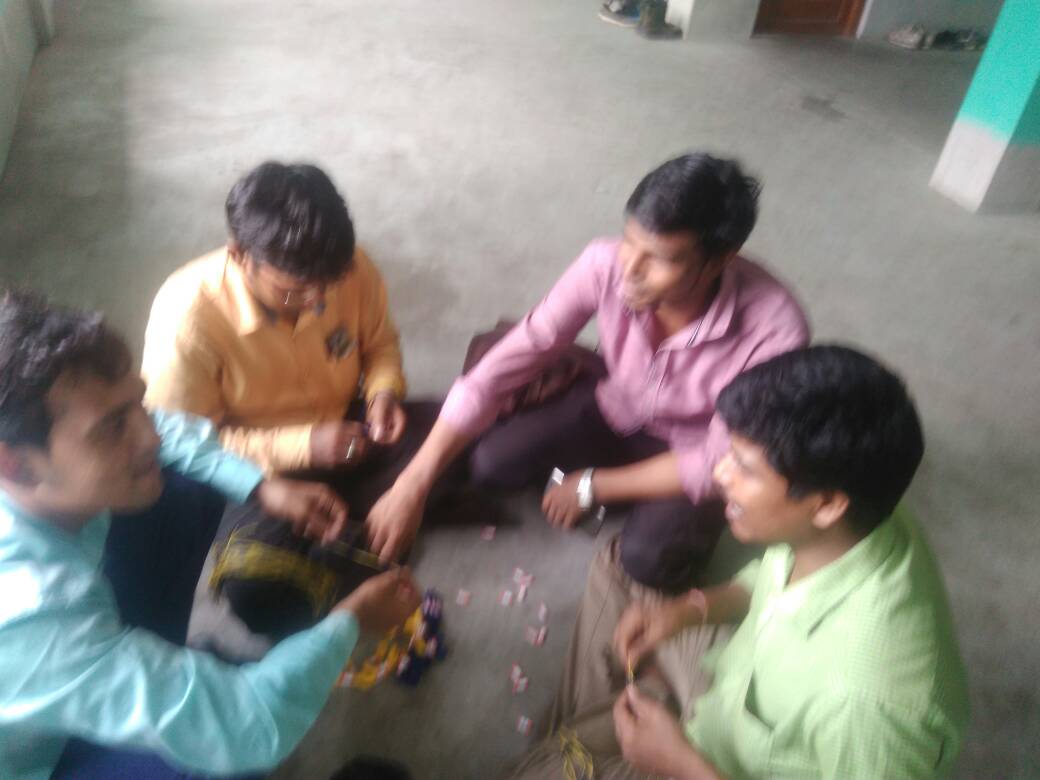 West Bengal Chief Minister Mamta Banerjee from Trinamool Congress, stopped delegations of Congress, BJP and CPI(M) from entering into the village. The Police was alleged to be remain inactive during the riots, it was also reported that Police stood aside and watched people looting and damaging public properties.
In recent years, Bengal has witnessed spate of communal tensions in several parts. In 2013 alone, West Bengal had faced 103 small and big incidents of communal violence.
First posted on http://twocircles.net