Word For Peace
A group of socially aware citizens of Kolkata are organising a series of inter-community or inter-faith events to build a united India
Kolkata: What do you when you are treated like the 'other'? What do you when WhatsApp forwards question your belief? Run into the corner or break the myths? A group of socially-sensitive residents of Kolkata have taken on to themselves to break the myths and stereotypes about Muslims through the Know Your Neighbour (KYN) Campaign.
Run by a citizen group in association with Girls' General Degree College (GGGDC), Ekbalpur, the KYN organised a unique two-day cultural extravaganza to not just celebrate diversity but to do away with the prejudice and stereotype that exists about Calcutta 23, which comprised of Khidirpur, Mominpur and Ekbalpur – one of Kolkata's biggest Muslim ghetto.
SPEAKING TO TWOCIRCLES.NET, MOHONA MAITRA, A KYN VOLUNTEER SAID, "SUCH EVENTS ARE THE NEED OF THE HOUR. WE CAN SEE THE MARGINALISATION OF A CERTAIN COMMUNITY. SOCIETY CAN'T PROGRESS IF IT FAILS TO INCLUDE ALL. WE UNDERSTAND THIS AND HENCE ARE WORKING WITH COMMUNITIES TO DISPEL THE MYTHS AND STEREOTYPES THAT EXIST."
The two-day event was inaugurated by Kolkata's mayor Firhad Hakim on Friday, November 29. During his inaugural speech, Hakim stressed upon the need for such events in colleges to dispel myths and ignorance that we often harbour about other communities.
The Need to Know Our Neighbours
Joya Mitra, an author who participated in an open discussion about Kabir, during the event, said, "We as Indians are diverse both linguistically and geographically. This diversity often creates a gap between individuals, which if not taken care of widens with time and leads to animosity. This fear of the 'unknown' is often encashed by political parties for their gain." She then paused and added, "This sense of otherness or mystery needs to be dispelled to build a united India. Programmes like these should be made popular with the youth. If the youth is united, India remains united."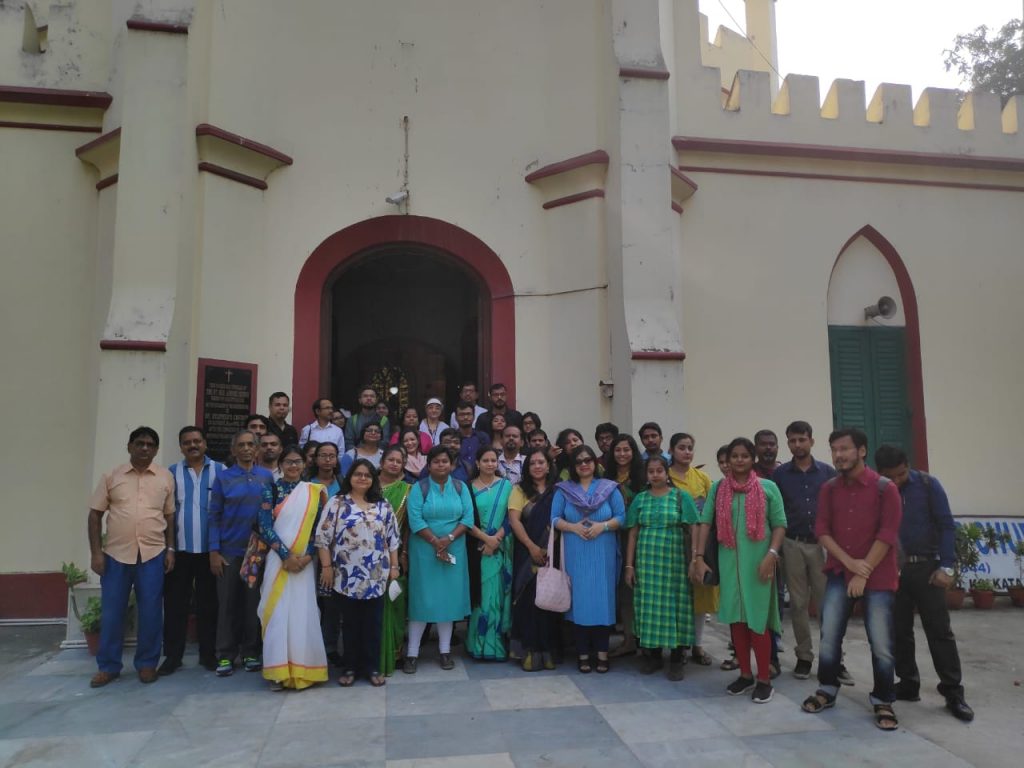 Echoing a similar sentiment was singer Moushumi Bhowmik. Speaking to TwoCircles.net, she said, "I know the founding members of this campaign since long. I believe in the work they are doing. Such meetings are the need of the hour. I hope they increasing the frequency." Bhowmik even performed during the event.
Public meeting or informal discussions
According to the participants, such informal events which allow people from different communities to intermingle are more effective than public meetings. "In a public meeting, people know that the participants have come prepared with their speeches. But such events often trigger frank discussions which help in doing away with the doubts that exist in one mind," said Sufiya Khatoon, a Kolkata-based poet and curator, who had participated in this cultural event. Her art installation displayed on the college ground had 250 peace poetry flags on display. These poems have been contributed by poets across the globe.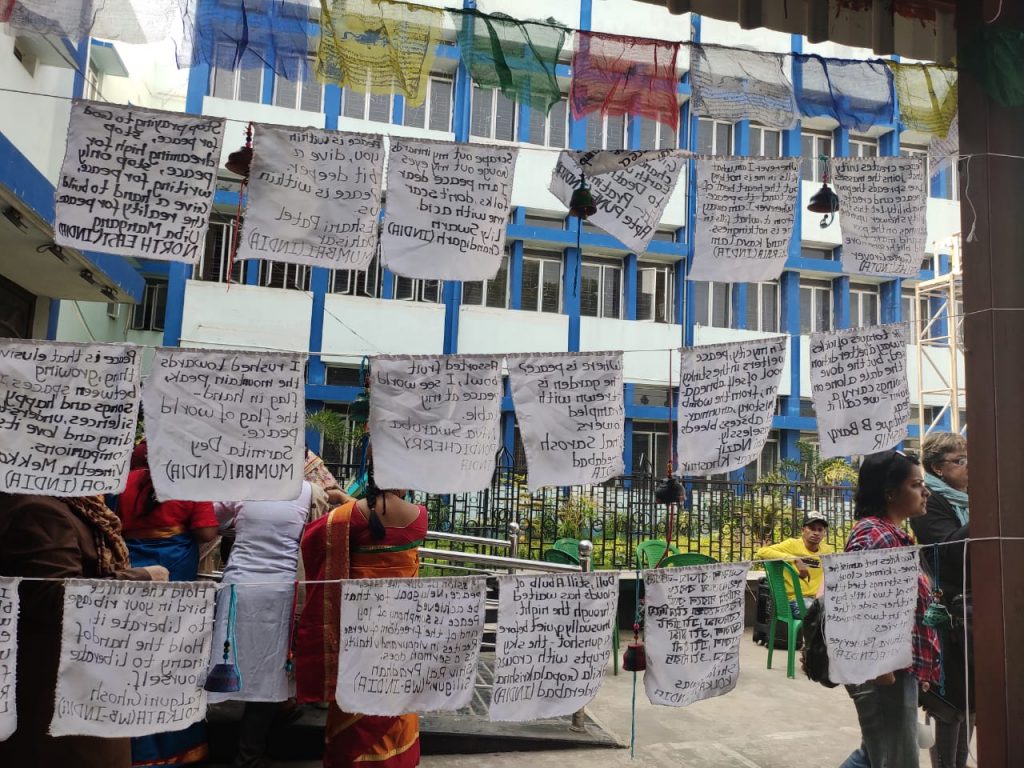 According to Sufiya, the fact that this event has no political patronage makes it even better. "The common man knows deep inside that politicians often lead them on. Hence such apolitical interaction, are more believable and effective," she added.
A sustained effort to unite India
This two-day event to celebrate diversity is not one stray event organised by KYN. It is a result of the sustained efforts of the active members of the KYN campaign – Sabir Ahamed, Md Reyaz, Md Anwar, Madhuri Katti and Mohona Maitra.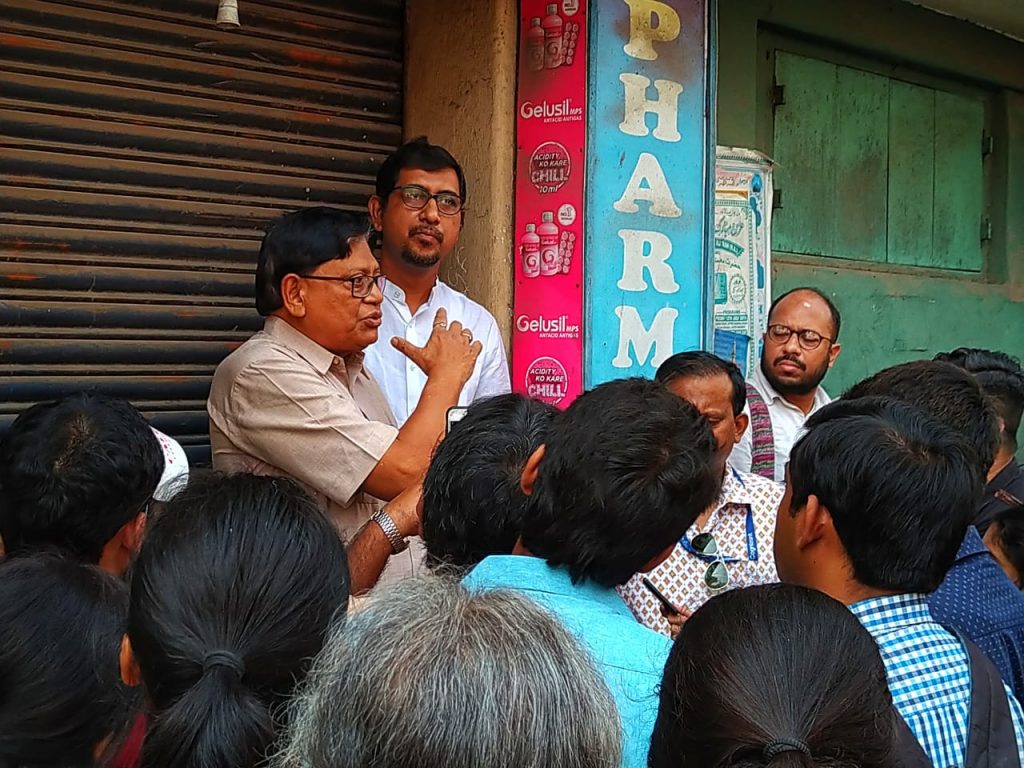 "They have been doing good work to dispel the misinformation that exists in our mind about Muslims and Muslim ghettoes. They often organise walks in Metiabruz, Zakaria Street with the sole intention of making the representatives of the two communities come face to face, talk to each other and know that deep inside every human is the same, irrespective of their caste, creed or ethnicity," said Mitra.
Adding to Arijit Mukherjee, a Professor at Behala College, said, "At a time when diversity is being projected as something negative, such events, which is being done in a sustained manner can help in mobilising a movement in India to do away with the prejudices that exist."
Source: http://twocircles.net/2019dec01/433504.html?utm_source=feedburner&utm_medium=email&utm_campaign=Feed%3A+Twocirclesnet-IndianMuslim+%28TwoCircles.net+-+Indian+Muslim+News%29