Word For Peace
They joined hands with the Sikh community at nagar kirtans on the 550th birth anniversary of Guru Nanak
It is our firm belief that no matter how many generations of a country stay engaged in religious, cultural or spiritual wars; humanity never perishes.
In the light of the strife and continued hate following the Ayodhya land dispute verdict last week, the Muslims, who received the short end of the stick in the matter, rose above enmity and hatred to help Sikhs celebrate the 550th birth anniversary of Guru Nanak.
Even though they have been singled out time and again by the proponents of a Hindu Rashtra and have been subject to slander for decades, they have chosen not to resort to provocation and instead opt for kindness, compassion and fraternity
In Ambala, Muslim brothers closed their shops to help with a nagar kirtan and arranged for a holy feast called langar.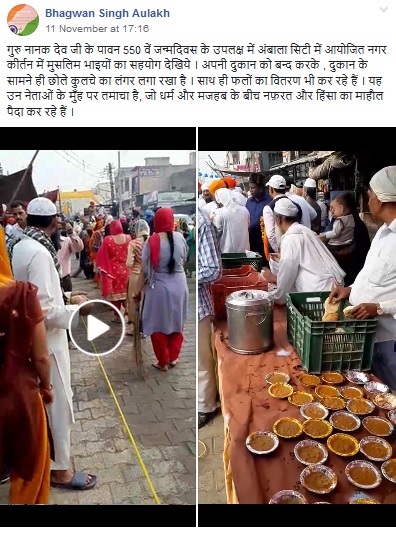 Amabla is not the only place where Muslims celebrated with the Sikhs. Even in Raipur, Chhattisgarh, the Muslim society gave a grand welcome to Sikhs on the occasion of Prakash Parv.
In Lucknow, Uttar Pradesh, the Muslim community helped kick-start the celebrations by cleaning the roads for the yatra. They also arranged for refreshments for Sikh devotees.
In Pakistan, Indian families celebrated Guru Nanak Jayanti at Kartarpur Sahib Gurudwara in Pakistan, after the setting up of the Kartarpur corridor by the Pakistan government in a show of solidarity towards Indian devotees.
In Sindh, Pakistan, many Muslim families of Nankana Sahib participated in a nagar kirtan and accompanied their Sikh fellows to Wagah border in their vehicles on Thursday.
In Harda, Madhya Pradesh too, the Muslim community set a beautiful example of communal unity. A few days before the Prakash Parv, children of the Sikh community visited madrasas to celebrate the festival of Eid Milad-un Nabi with the children of the Muslim community. The leaders of both religious spoke of moral education and described humanity to be the most important part of life.
Guru Nanak, who spoke of brotherhood, equality and tolerance is said to be "Guru Nanak Shah Fakir /Hindu ka Guru, /Mussalman ka pir."
The Sikh scripture Guru Granth Sahib includes teachings from Muslims, namely saints (Baba Farid), a Muslim of the Chishti Sufi order and Kabir.
These are just a few examples that document the large-heartedness of the Muslims. Muslims in India, have been demonised through the centuries. It is now up to us to reject the conventional conditioning we have been put through by fascist, hate mongering groups and see the Muslims as one of us.
Source: https://sabrangindia.in/article/ganga-jamuni-tehzeeb-muslims-help-guru-nanak-jayanti-celebrations