Members of the Seattle area mosque are "overwhelmed" by the support so far. But they need more.
By Christopher Mathias
His mosque was burned to the ground in the early morning hours of Saturday, but on Sunday night his heart was full of hope.
"We are so overwhelmed," said Imam Fazal Hassan, looking out over the crowd inside Sammamish High School in Bellevue, Washington. Some 400 people had gathered there to show support for the local Muslim community, according to mosque board member Tanvir Rahman.
Hassan recounted how immediately after news spread that his mosque ? the Islamic Center of Eastside in Bellevue ? had been destroyed by fire, he received calls from the area's rabbis, priests and pastors, all offering to help.
Outside the mosque, Hassan said, other non-Muslims in the Seattle area left gifts: flowers, balloons and cookies.
"They were still warm!" Hassan said of the cookies, and the crowd burst into laughter.
Hassan then cited a hadith ? "He who does not thank people, does not thank Allah" ? before thanking the town's mayor, the fire chief, the police chief, the FBI and everyone else in the Bellevue area "from the bottom of my heart."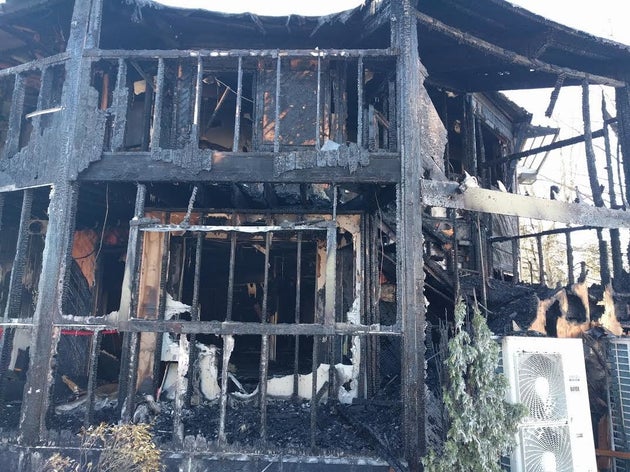 It was a moving moment, Rahman told The Huffington Post, and still more moving to know that the Islamic Center has already raised over $200,000 in donations on LaunchGood toward building a new mosque. That's almost halfway to the $500,000 goal.
"We are extremely, extremely humbled by the show of support and acceptance," Rahman said.
"I'm shaking in tears and shock right now," Varisha Khan, a senior at the University of Washington, wrote in a Facebook post on Saturday after watching a video of her childhood mosque in flames.
"This was my second home after moving to Seattle and so much of my identity was shaped from the amazing people, experiences, memories, lessons, and standing shoulder-to-shoulder in prayers here for nearly a decade of my life," she wrote.
Police have arrested 37-year-old Isaac Wayne Wilson in connection with the fire, Bellevue Police Chief Steve Mylett told reporters at a press conference on Saturday.
Extracted from huffington post