Word For Peace
M.H.A. Sikander, Srinagar, J&K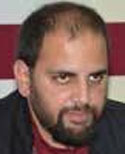 The valley of Kashmir, given its picturesque beauty, has been baffling with violence since last three decades. A generation of youth was lost in this violence. Still hundreds are involved in violent activism. But this may not be a complete picture of Kashmir.
The other side of the coin presents a contrast picture. Thousands of youth are struggling, participating and actively taking part in the competitive exams. These competitive exams are of variegated nature ranging from national to international levels. Just after completing the higher secondary schooling, youth do appear for the common entrance tests (CETs) for Medicine and Engineering degrees.
Many youths, particularly girls, do opt for the entrance in top colleges and universities of India. In this context the rural youth are more at the forefront of applying in different universities.
At the Masters level too, Kashmiri youth have proved their mettle by cracking the entrance tests of various universities. Kashmir, being a land locked state with few opportunities for higher education and non-conducive atmosphere that disrupts education calendar, is not the first choice for study of the youth who have means to avail education outside Kashmir. Now the internet has opened up new vistas for exploring educational avenues, so the youth are opting and engaging with new educational institutions in different states.
Two decades back it was quite rare to send children for studies outside Kashmir but now it is a new normal. Thousands of Kashmiri students are studying in different government and private colleges all over India. It has led to reducing the barriers that were prevalent before among Indians and Kashmiris. The perception about the 'other' has improved quite a lot in this manner.
The opportunities that civil services offer to the youth are huge. They certainly do help in social mobility and improvement of prestige. The youth have been appearing in civil services since decades but the topping of civil services by Dr Shah Faesal in 2010 led to the impetus of youth appearing for civil service exams as he became a youth icon. Since then thousands of youth have opted for civil services and scores cracked it and are posted in numerous departments.
This has been a harbinger of hope for numerous youth who are every year appearing in civil service exams. They are inspiring a generation of youth to opt for the civil services as a career option. Many youth stay in Delhi and other states for coaching related to these civil services. They seriously look towards a career in civil services. Now there is a boom in institutions that offer coaching for civil services. Further a number of civil servants have started the initiative for coaching the youth for civil services and informing them about the intricacies of how to appear in interviews. The youth are also becoming passionate about the civil services and are looking beyond the careers available in just medicine and engineering.
The traditional subjects like arts, commerce, medical and non-medical too are being replaced by business administration, computer application, nano-technology, artificial intelligence and clinical psychology. There is a huge competition among students to get admission in these courses. Further the youth are also appearing for Common Law Admission Tests (CLAT) for a degree in Law.
Now, there are numerous youths in the Union Territory of Jammu & Kashmir who are applying for higher education in many European and foreign universities. They include particularly the research, doctoral and post doctoral studies. Many youths have got the opportunity to get admissions and further secure the scholarships too and study in these prestigious academic institutions. These are all optimistic signs about the youth progress.
But the other side of the coin is that despite cracking these difficult exams or getting admissions in these world class universities, once they are in positions of power, few do rise above the petty selfish vested interests and contribute towards the welfare of the poor. Even if they belong to a certain category, few do try to help their own communities. Instead, they use the position for the self aggrandizement. So we witness that despite numerous youth cracking the exams there is little improvement in the lives of masses. It is the most unfortunate part. These civil servants are unable to become youth icons as they too are mired in corruption and their characters are not unblemished.
For instance—Dr Shah Faesal as a youth icon did inspire scores of youth to crack the civil service exams and look at it as a dream career but his brief stint with politics bogged down all his efforts. But despite these setbacks there are numerous youth who everyday make efforts to do something for the betterment of society. They are able to do their bit, howsoever little, while remaining a part of the system or outside it. They are the real harbingers of change in a milieu that is mired in a vicious cycle of unending violence.
Author, M.H.A. Sikander is a writer-activist based in Srinagar, Kashmir.